News-FRONT-EN
BBC 🔵 Diane Abbott attacks Labour investigation as 'fraudulent'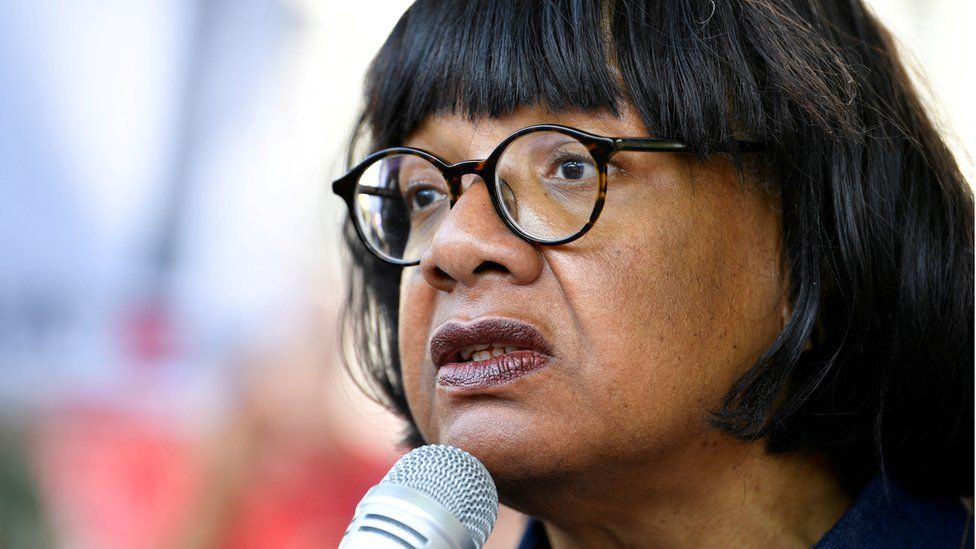 Diane Abbott has branded a Labour Party investigation into her comments about racism "fraudulent".
She was suspended as a Labour MP in April after suggesting Jewish, Irish and Traveller people were not subject to racism "all their lives".
Ms Abbott later apologised and withdrew her remarks.
The party said it had introduced an independent complaints process to investigate cases and would not give a running commentary.
Ms Abbott said she had been told by Labour whips – who are in charge of party discipline – there would be an investigation but she claimed this was now in the hands of Labour Party HQ and that no proper process had been undertaken in the four months since her suspension.
If the whip remains suspended at the next election, she cannot stand as a Labour candidate. Ms Abbott is claiming this is the outcome the party leadership has been seeking.
The MP for Hackney North and Stoke Newington said the HQ would report to Labour leader Sir Keir Starmer, "who almost immediately pronounced my guilt publicly".
"This completely undermines any idea that there is fairness or any natural justice. It is procedurally improper," she wrote in a statement posted on X.
She added that the "Labour apparatus" had installed its own, hand-picked personnel in her constituency, clearing the way to replace her as the candidate prior to the next election.
Labour leader: Abbott's comments were antisemitic
Starmer denies targeting left after Abbott suspended
Senior Labour figures had suggested privately that one solution to the stand-off would be to restore the whip in return for an undertaking by Ms Abbott to stand down at the next election.
Her statement suggests that no such deal was struck, though Labour sources insist that, despite her criticisms, they have not ruled out restoring the whip and the investigation was continuing.
A Labour Party spokesperson said: "The Labour Party rightly expects the highest standards of behaviour from its elected representatives, and has introduced an independent complaints process to investigate cases.
"We do not give a running commentary on ongoing investigations."
Ms Abbott, who is on the left of the party and a staunch supporter of former leader Jeremy Corbyn, claimed "others have committed far more grave offences, and belated or grudging apologies have been wrung from them".
"Yet they have been immediately excused as supporters of the leadership," she said.
Ms Abbott added: "Taken together, the procedural impropriety, Starmer's pronouncement of my guilt, the four-month delay in the investigation, the repeated refusal to try to reach any accommodation, all point in the direction that the verdict has already been reached. The crushing of democracy in my local Labour Party is the latest confirmation.
"I am the longest serving black MP. Yet there is widespread sentiment that as a black woman, and someone on the left of the Labour Party, that I will not get a far hearing from this Labour leadership."
Ms Abbott currently sits as an independent MP and is not allowed to represent Labour in the House of Commons.
Her suspension came after she wrote in a letter to the Observer newspaper that Irish, Jewish and Traveller people "undoubtedly experience prejudice", which she said is "similar to racism".
The letter added: "It is true that many types of white people with points of difference, such as redheads, can experience this prejudice.
"But they are not all their lives subject to racism."
In her apology, Ms Abbott said "errors" arose in an initial draft that was sent, adding: "But there is no excuse, and I wish to apologise for any anguish caused."
Asked about Ms Abbott's comments the following day, Sir Keir condemned them and said they were antisemitic.
Mr Corbyn said the treatment of Ms Abbott was "a disgrace".
He wrote on X: "The latest stitch-up represents yet another flagrant attack on local democracy."
Momentum, the left-wing campaign group set up to support Mr Corbyn, said: "If there is any semblance of democracy and due process in Starmer's Labour, a fair and proper process should rapidly be concluded and the whip restored."
Ms Abbott, who has been an MP since 1987 and was the first black woman elected to Parliament, served as shadow home secretary in Mr Corbyn's cabinet between 2016 to 2020.
Sir Keir promised tough action to "root out" the antisemitism which had dogged the party under Mr Corbyn's leadership, when he took over in 2020.
Related Topics
Diane Abbott
Labour Party
Hackney